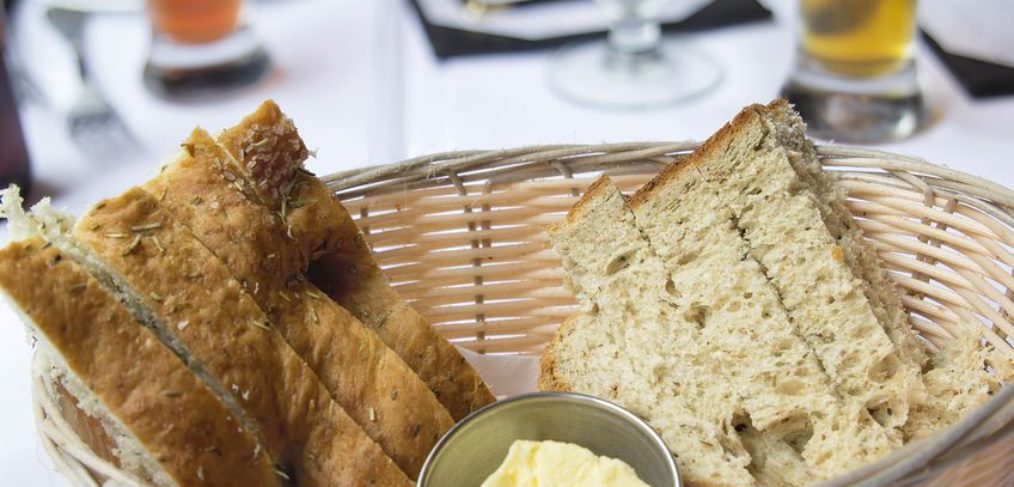 I'm SO Not Fun to Travel With: Day 27
I booked an appointment with the production lead at Grand Central Baking Co's first location today. I wanted to capture a Facebook LIVE event showcasing the bread at their first location and also pick up some awesome sourdough bread.
We started our day with a walk to a nearby Skillet restaurant. Skillet started as a food truck in Seattle, and has grown into a restaurant chain. Did I mention you can judge a restaurant by its bread? I had the Serious Toast, and it was made with a smooth and rich brioche bread. It was UNBELIEVABLY heavenly!
Skillet's Serious Toast is made with molasses custard soaked thick cut brioche, local pit ham, raspberry jam, powdered sugar and scrambled eggs.
Since this meal came with egg and ham, I gave those away to both my high school friends (who are still puzzled why I am eating so much bread).  I couldn't finish the double decker French toast, so I had to doggie bag it. This was half (over 250g) of my day's consumption of bread right there. I finished them up later in the day.
A visit to Grand Central Baking
After breakfast, we made it over to Pioneer Square. Toured the first Grand Central Baking location, then wolfed down some pastries and more bread. Michael, the production lead at this location, gave me a potato roll which I finished within 12 minutes during the FB live recording. The sour of this roll was so smooth and soft.
Easy to say, that was the best-tasting potato roll I ever had. Why? Because they take a Yukon potato, skin it, cube it and mix it into the sourdough. Who in the world takes the trouble to do this? Doesn't it show you how much passion they have for the thing they love most – making the best bread in the world? I get impressed by Grand Central Baking every time I talk to them. Their passion is evident why they remain successful.
We walked a whole 8 miles! This cost me 800 calories. Which meant that I could eat some more bread for dinner! I told my friends (both Asian) that we cannot eat at any noodle or rice restaurant, and one of them replied "you are so not fun to travel with at this time; can't you just drop your bread diet?" So we compromised on Agrodolce in Fremont, an Italian trattoria which served handmade noodles and pasta.
They brought out their Focaccia bread. Mama Mia! This was real Focaccia! What did I say about judging a restaurant by its bread? Agrodolce not only made delicious pasta, they really knew how to make a great Focaccia as well! While my friends both had pasta, I had antipasto misto, caramelized broccoli (which was out of this world) and tomato and fennel soup with my Rye Sourdough from Grand Central Baking. We also celebrated 30 years of friendship with Prosseco and Port (not such a great idea after looking at my calorie count).
Here's what I ate on Day 27 of EB90:
| | | |
| --- | --- | --- |
| Food | Portion | Calories |
| Skillet's Serious Toast | 2 slices (100g) | 900 |
| Grand Central Baking Rye Sourdough | 4 slices (50g) | 560 |
| Egg | 1 | 300 |
| Ham | 1 | 105 |
| Macaroons | 2 pc | 120 |
| Potato Roll | 80g | 120 |
| Meat plate | | 300 |
| Tomato Fennel Soup | 1/2 C | 75 |
| Caramelized Brocolli | 1 1/2 C | 150 |
| Tiramisu | | 250 |
| Prosecco | 1 glass | 90 |
| Port | 1/2 glass | 50 |
| Coconut Water | 2 cups | 90 |
| London Lavender Fog | | 150 |
| Walk 8 miles | | -800 |
| Total | | 2460 |