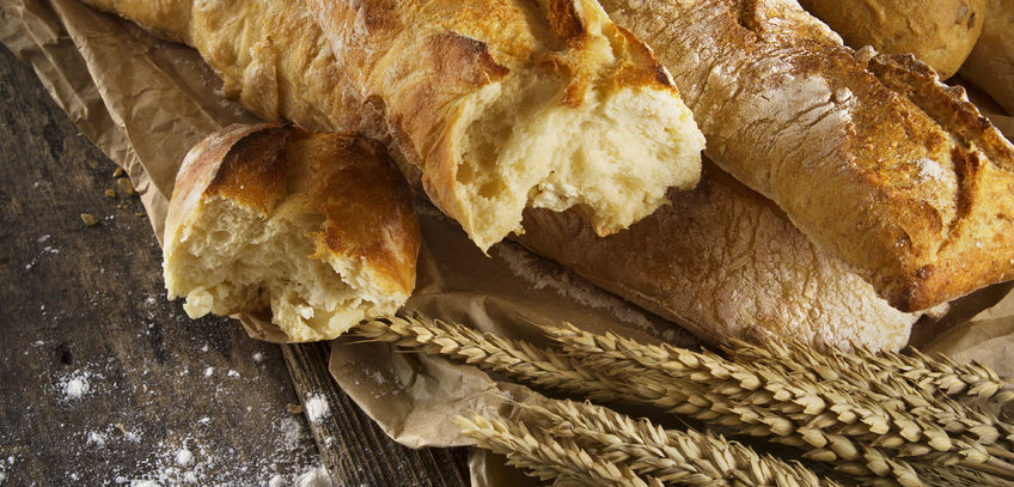 A Tradition in Swiss Bread: Day 89 and 90
Eat bread from Switzerland? I don't know if I've ever tasted bread from there before! I am really amazed that the news of me eating bread has spread all the way to that part of the world. Least to say, I was very honored when bread from Pain Paillasse® came to me overnight. All I had to do was refresh it in the toaster oven for 10 minutes. Just like that and it was crispy on the outside, but moist and chewy on the inside.
Pain Paillase is a unqiue hand-shaped bread made with a natural leaven and long fermentation time. It's comes from the largest traditional bakery in Switzerland, with all bread cooked by wood fire. The bakery and bread owes it start to life-time baker Aimé Pouly. He opened his first bakery when he was just  24 years-old. By the 1990s, there were 11 bakeries and pain Paillasse bread—Pouly's patented bread recipe—made its appearance.
"…we called this bread "pain Paillasse" in memory of the simple straw mattress on which bakers used to sleep while their dough rose." – Aimé Pouly
The bakery and bread continued to gain popularity and awards. Pouly's daughter, Sindy, now carries on the tradition paved by her late father, still using the original recipe.
What makes Pain Paillasse so special?
The key characteristics of the loaf is intensive dough hydration, extended fermentation time (24 hours), the use of a stone or wood oven and 100% all-natural ingredients.
The result is a beautiful crunchy crust, open crumb and rustic loaf with an authentic taste.
It's a labor-intensive bread that needs highly-skilled bakers. Yet the bakery has created an industrial process. Anyone who produces Paillasse bread is carefully selected, trained and followed by the Pain Paillasse team. And you sure can taste the care and effort that goes into their bread!
Here's what I ate on Days 89 and 90 of EB90:
| | | |
| --- | --- | --- |
| Food | Portion   | Calories  |
| Day 89 | | |
| Bagels | 200g | 520 |
| Panne Paillaise Sesame | 5 slices (30g) | 450 |
| Panne Paillaise Olive | 5 slices (30g) | 450 |
| Berry Cream Cheese | 2 Tbsp | 50 |
| Butter | 2 Tbsp | 200 |
| Nutella | 2 tbsp | 200 |
| Apricot Sugar-Free Jam | 2 Tbsp | 40 |
| Brats | 66g | 196 |
| Cauliflower | 1 C | 60 |
| Banana | 1 pc | 110 |
| Cycle/swim | | -400 |
|  Total | | 1876 |
| Day 90 | | |
| Bagels | 200g | 520 |
| Panne Paillaise Sesame | 5 slices (30g) | 450 |
| Panne Paillaise Olive | 5 slices (30g) | 450 |
| Hot Dog and Bun | | 270 |
| Greek Cheese Spread | 1 Tbsp | 22.5 |
| Butter | 2 Tbsp | 200 |
| Croissant | | 240 |
| Asparagus | 1 C | 27 |
| Steak and Onions | | 200 |
| Egg | 1 | 78 |
| Zucchini | 1 C | 68 |
| Peanut Butter | 1 Tbsp | 95 |
| Apricot Sugar-Free Jam | 2 Tbsp | 40 |
| Cycle/Swim/Run | | -800 |
|  Total | | 1860.5 |