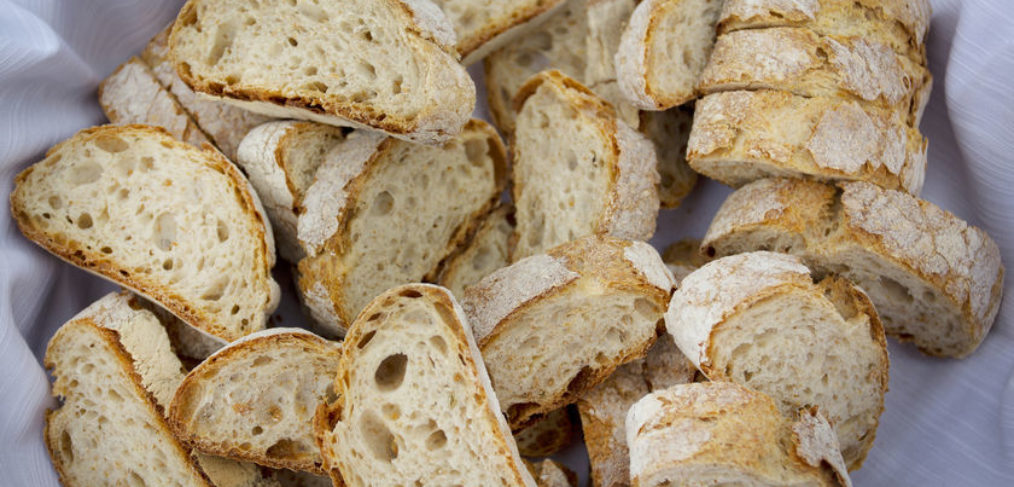 Is it Important to Eat Bread in Your Diet? Day 78 and 79
I've heard that over and over again from people who are trying to lose weight. It is really misleading when someone says that the simple act of cutting bread out of your diet will magically make you lose weight. The immediate follow-up statement usually goes like this: "carbs are bad for you."
Carbs are not bad for you. Based on a 2,000 caloric intake, a daily intake of 300g worth of carbohydrates is recommended. Everyone should at least eat 120 – 130g each day to meet the minimum required for your brain to function. In bread talk, that's about 3 slices of bread a day.
It's true, if you cut something out from your diet, you will lose weight because your daily habits surrounding that food changes and your consumption becomes more limited. This can be applied universally to all types of food, not just bread.
Why keep bread part of your diet?
Bread should be part of everyone's diet because it is a conveniently nutritious product. If you followed my journey, you would have noticed that I consumed bread that is healthy and easily obtained off the supermarket shelve. You do not need to make these breads yourselves, nor do you have to specially order it.
Why are you eating a loaf? What are you trying to prove?
If this journey said, "I'm eating 3 slices of bread a day, and bread is not killing me" would you believe me? But I ate a pound of bread a day, 12-14 slices, and still, it hasn't done anything bad to me or my weight. Now do you believe me that bread is not bad for you?
How do you eat so much bread in one day?
I've pretty much spaced out my bread eating all throughout the day. Anyone in our office will tell you that I'm stuffing my face with bread all the time. My children will tell you that all I eat is bread at the dinner table. If the clock is ticking, and I'm not in bed, I'm eating bread.
Don't you get sick of eating so much bread?
Never been and never will. My critics, or the Bread Police (they seem to be hanging around in the office) keep asking me that question in hopes of seeing a white flag. I think the answer is pretty simple. I'll never get sick of something I love eating. I've been loving this journey, and will continue to love eating bread, even after 90 days.
Here's what I ate on Days 78 and 79 of EB90:
| | | |
| --- | --- | --- |
| Food | Portion | Calories |
| Day 78 | | |
| Bagel | 2 (100g) | 420 |
| Fritatta Croisant | 80g | 300 |
| Purple Wheat Raisin | 5 slices (39g) | 400 |
| Ravioli and Sausage | 1 C | 300 |
| Canale | | 200 |
| Steamed Brocolli | 1C | 30 |
| Orange | 1 orange | 45 |
| Total | | 1695 |
| | | |
| Day 79 | | |
| Bun Rolls | 1lb | 1200 |
| Beet Salad | 2C | 250 |
| Croissant | | 240 |
| Pork Watercress Noodles | 1C | 200 |
| Marie Biscuits | 5 | 100 |
| Cherries | 1C | 74 |
| Run | | -200 |
|  Total | | 1864 |