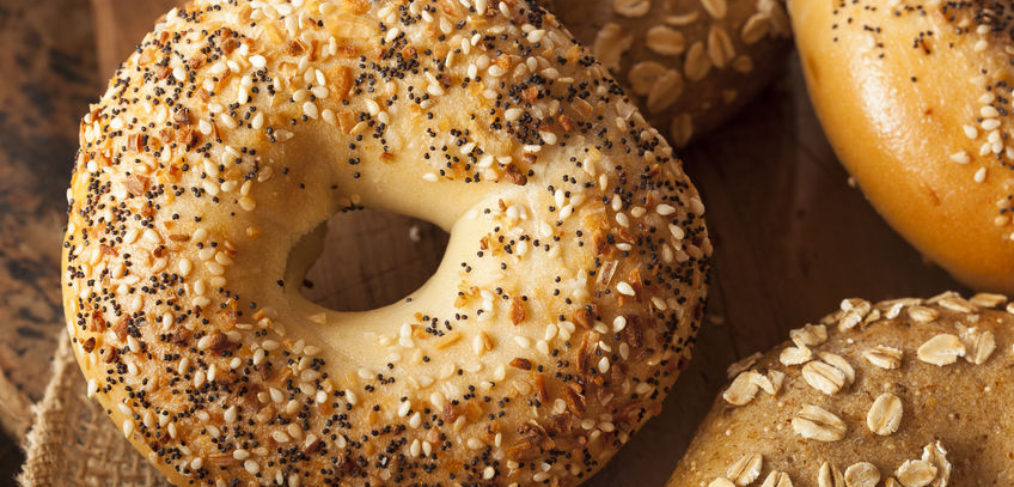 Bagels, Baguette and Coffee Flour Bread: Day 8
I love bakers. Have I said that lately? Today I had the honor to try bread made for me by three companies. The first one was a bagel from Bagels on Bartow, a family-owned business dedicated to the art of perfecting and preserving the tradition of New York old-fashioned, hand-rolled bagels. I was so excited to get bagels shipped to me from the Bronx. I made a cream cheese, lox and capers sandwich with this delicious bagel. It was heavenly!!!
The delicious baguette came from the O-tentic line of Puratos. They used a dried sourdough ferment that gave this baguette a crispy and aromatic bite to it. It was just wonderful toasted and eaten with butter.
Last but not least was the Sprouted Wheat and Coffee Pumpkin Berry bread, a truly outstanding loaf from Alvarado St Bakery. I expected a dark roasted coffee aroma and taste, but was surprised with the light texture and fruity aroma. Like any fruit bread, it paired well with jams and jellies. It is also heavenly eaten toasted with butter.
I will buy this bread any day to support coffee flour farmers. Did you know that the fruit that produces the coffee bean is discarded? Yes, every year, millions of tons of coffee fruit is discarded because we have no use for it. Well, the Coffee Flour Company patented a process at the farm level to harvest these fruits and make them into coffee flour. It allows farmers an extra income stream and benefits the local farm economy. Coffee flour is a sustainable food ingredient, and it clearly tastes great in this bread.
Here's what I ate on Day 8 of EB90:
| | | |
| --- | --- | --- |
| O-Tentic Baguette | 2 slices (64g) | 370 |
| Bagels on Bartow | 130g | 318 |
| Alvarado St Bakery® Sprouted wheat coffee pumpkin cranberry bread | 6 slices (32g) | 600 |
| World of Chia® Blackberry Fruit Spread | 1 Tbsp | 30 |
| Biscoff® Cookie Butter | 1 tbsp | 85 |
| Lox | 2oz | 120 |
| Siggi's® Skyr Vanilla | 1 C | 120 |
| Orange | 1 orange | 45 |
| Sauteed Spinach | 1 C | 48 |
| Peach spread | 2 Tbsp | 100 |
| Capers | 1 tsp | 5 |
| Walk | 45 min | 48 |
| Total | | 1884 |