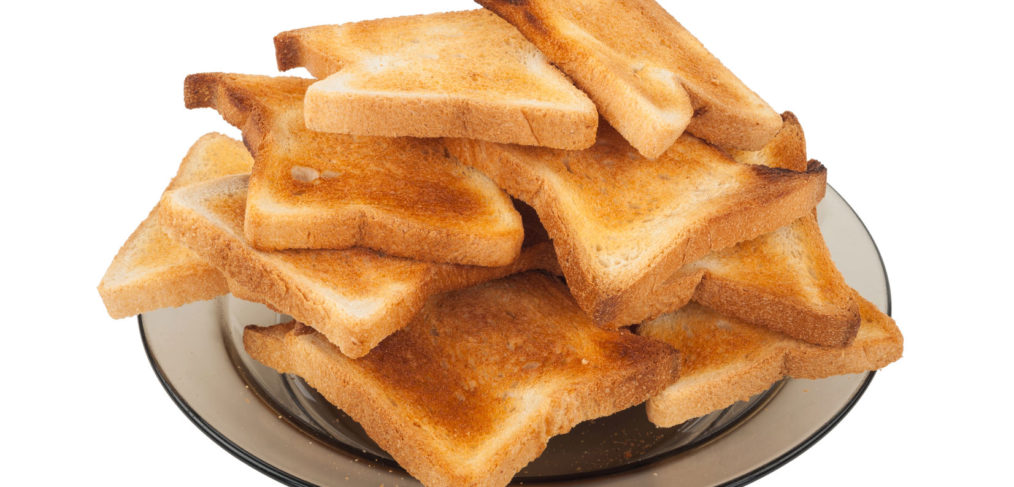 What's Good About White Bread? Day 1
Believe me, I was like a kid in a candy store looking at all the fresh loaves of bread that was kindly delivered to me in the first week – loaves from Dave's Killer Bread, Jenny Lee's, Franz Bakery, Klostermann's Bakery and more! It was hard to decide where to start but I had to pick one. So I finally chose the innovative Dave's Killer Bread – White Bread Done Right®.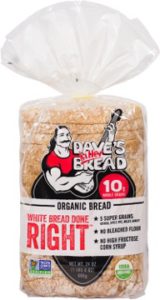 Really? What's good about white bread?
"I don't want white bread for my sandwich, it doesn't have substance!" says Dean, my beloved husband of 20 years.
"But it's good for you, honey. It comes from whole grain white wheat. It's as nutritious as eating whole wheat bread, but it looks white so it will fool the kids!" I felt like a sales representative for Dave's Killer Bread. The real question is, why is Dean eating my bread, when the whole loaf was mine? Because he just might be a little envious? I think so.
My analysis of a variety of loaves revealed I can safely consume one pound of bread (454g) every day with other food items, without going over my daily intake of 2,100 calories. It comes out to 14 slices out of 17 slices, leaving three slices of bread left for my hungry husband.
Yep, that's 14 slices of White Bread Done Right® for my first day.
How did it go?
White Bread Done Right® was delicious and surprisingly hearty. I should have eaten two in the morning, two at lunch, and two at dinner, with slices consumed at regular intervals all throughout the day. My meal plan included sandwiches, toasts with Nutella® and strawberries, cookie butter, cream cheese and butter.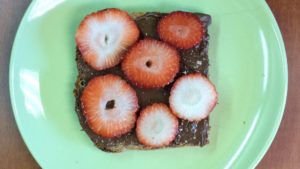 So spreading out the slices seemed logical.
But that wasn't the case. I ate a slice with a spread every time I felt hungry (But man! This white bread really kept me full!) or when I could break from work to eat. By 5 p.m., I had seven slices left. SEVEN SLICES!!! I usually don't eat past 7 p.m. and I needed to go for a run. So now I was faced with shoving seven slices of bread into my face within 1.5 hours? HORRORS! Bad planning, Lin. Bad planning!
Now, you all know that you have to drink water (or some kind of liquid) when you eat bread. So the more bread I ate, the more I had to drink. My first day of this bread eating challenge ended with me just feeling so bloated from shoving five slices down (with two used for a sandwich) before 7:30 p.m. By 10 p.m. I still felt like a beached whale.  Was it the bread? No, it was bad planning. Like any diet, not having a proper menu in place was bad strategy.
So to summarize, what's good about White Bread Done Right®? It is an awesome loaf of bread. I just don't recommend eating most of it in one sitting—definitely not a good idea.
Here's what I ate on Day 1 of EB90:
| | | |
| --- | --- | --- |
| Food | Portion | Calories |
| DKB White Bread Done Right® | 14 slices (480g) | 1540 |
| Weight Watchers® Whipped Cream Cheese Spread | 1 Tbsp | 30 |
| Almond Breeze® Chocolate Almond Milk | 1 Cup | 100 |
| Boar's Head® Smoked Ham | 2 oz | 60 |
| Nutella® | 2 tbsp | 200 |
| Strawberries | 1C | 47 |
| Wild Friends® Honey Peanut Butter with Pretzel | 2 tbsp | 180 |
| Biscoff Cookie Butter® | 1 tbsp | 85 |
| Orange | 1 orange | 45 |
| Calcium Supplement | | NA |
| Run 5K | | -325 |
| Total | | 1962 |