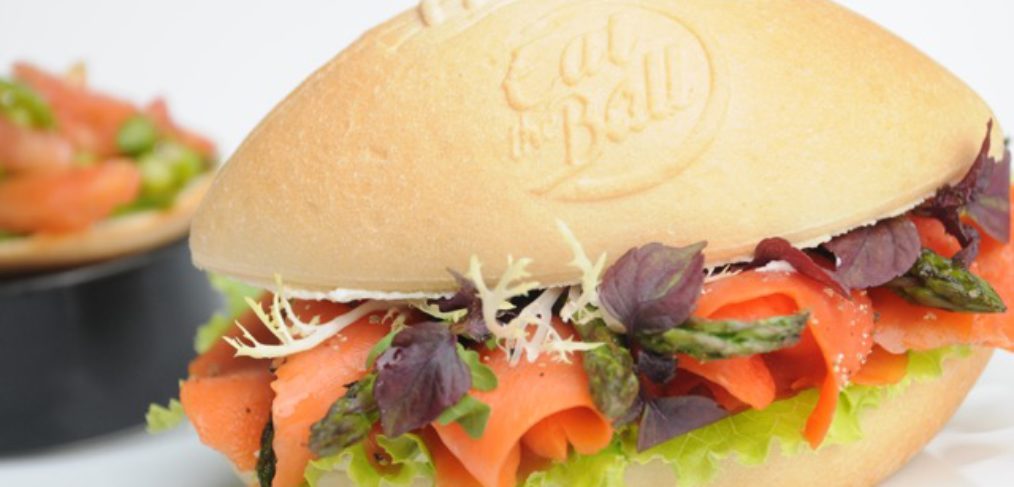 Eat the Ball! Days 58 and 59
This must be the most amazing thing I've seen since I started my bread eating journey. As much as I know about fermenting dough, these smooth football shapes just intrigued me to no end!
Made with only natural ingredients (no preservatives or flavor enhancers and non-GMO) and real butter from grass fed cows, the Eat the Ball® line features various sport shaped balls from football to soccer and even hockey pucks. Honestly, it makes bread eating fun again.  The balls of bread were all consumed when I arrived home. My kids just ate them plain. It was that good.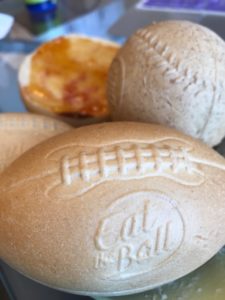 How did they create a fermented product taking on the shape of a football mold without air bubbles on the skin? How do the words on the ball appear so distinct and sharp? How is the interior so unbelievably uniform without the use of emulsifiers?
Have I gotten your attention yet?
The secret? Their patented Pro.ferment.iced ® technology. I wish I can tell you all about it, but I haven't spoken with the founder of this technology yet. As far as I can guess, it must be using some kind of low stress manufacturing utilizing or low temperature fermentation over a long period of time. One thing for sure: the aroma from this bread is strong and yeasty.
Eat the Ball® is the vehicle for a new technology. Their patented system is an example of a novel food processing system with the primary purpose of feeding our future generations sensibly. A bread with a long shelf life in combination with all natural ingredients is the key to avoiding bread waste and to providing the ever-growing world population with healthy and nutritious food.
The best part about this bread company is that they have founded the ONE BALL FOUNDATION to provide funding for novel food technology projects.
Here's what I ate on Days 58 and 59 of EB90:
| | | |
| --- | --- | --- |
| Food | Portion  | Calories |
| Day 58 | | |
| Bob's Red Mills Spelt Bread | 4 slices (52g) | 800 |
| Bob's Red Mills 10 Grain Bread | 3 slices (47g) | 330 |
| Olive Ciabatta | 200 g | 420 |
| Onion bun | 78 g | 190 |
| Hot Dog buns | 2 (43g) | 270 |
| Hot dogs | 240 | 240 |
| Ricotta Cheese | 1/4 C | 100 |
| Apricot Sugar-Free Jam | 2 Tbsp | 40 |
| Butter | 2 Tbsp | 200 |
| Roasted Vegetables | 1 Tbsp | 100 |
| Cauliflower | 1 C | 60 |
| Coconut water | 2 C | 100 |
| Calcium Supp | | |
| Total | | 2850 |
| Day 59 | | |
| Football | 135 | 360 |
| Baseball Roll | 90 | 230 |
| Hockey Puck | 90 | 240 |
| Oroweat Whole Grains Double Fiber | 4 slices (38g) | 320 |
| Salami | 6 slices | 110 |
| Ricotta Cheese | 1/4 C | 100 |
| Meat loaf | 4 oz | 260 |
| Cauliflower | 1 C | 60 |
| Pineapple | 3 oz | 41 |
|  Total | | 1721 |