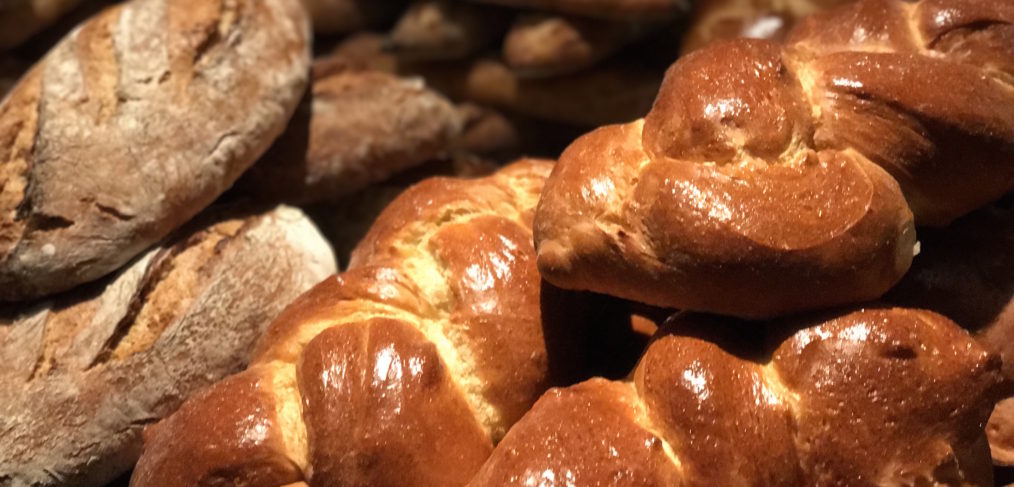 Who's the King? Day 52 and 53
Today at the International Symposium on Bread, Mike Pappas from The King's Kitchen hosted our private bread tasting party. What is unusual about this bakery? The King's Kitchen operates as a public restaurant, serving local, healthy, Southern cuisine and the profits and proceeds from "The King's Kitchen" goes toward feeding the poor.
In addition, The King's Kitchen works with "The Restoration Program," a five-part training program to employ, train and minister the gospel of Jesus Christ to the homeless, the poor, troubled youth, rehab graduates and other members of our community who need employment.
Mike Pappas is a traditional baker who wants to bring historical products, in a modern context, that meet global standards. At the tasting party, I got to try a bread he developed: 50% organic whole wheat flour that also has a bit of semolina, butter, fennel, anise, red wine vinegar, and mountain honey. It was delicious!
Mike told me he uses 100% natural, multi-grain liquid levain, "that has some other fun bells and whistles that I add to it."
In other bread news, I have volunteered to take the title of Crumbassador for the Portland region! What does that mean? Well, Dr. Nedezhda Savova-Grigorvova, a cultural anthropologist has created a game called Bread without Borders.
After seeing so much hurt and conflict in the world, Dr. Savova-Grigorvova begin to wonder if there was a simple solution to bring unity and happiness.
She saw one way to unite people around the world with through something they have in common—bread.
Many countries see bread as way of friendship and sharing. So starting in the middle east and Africa, she hosted bread baking events across the globe until 7 years later it became the Bread House Network. Now, she is releasing the game Bread without Borders. Built from her knowledge and experience, it's an educational game she knows will help individuals and communities.
We will be working with partners like the Wheat Marketing Center, and other local bakeries to play this game, and bring our local communities together. I just jumped at the chance that Team BAKERpedia could be part of this new wave of community development around bakeries.
Here's what I ate on Days 52 and 53 of EB90:
| | | |
| --- | --- | --- |
| Food | Portion   | Calories   |
| Day 52 | | |
| Whole grain sourdough | 6 slices | 600 |
| Egg Challah | 6 slices | 660 |
| Mozerella cheese | 3oz | 240 |
| Apple | 1 | 95 |
| Apricot Sugar-Free Jam | 2 Tbsp | 40 |
| Nutella | 1 tbsp | 100 |
| Ricotta Cheese | 1/4 C | 100 |
| Handmade Beef Noodles | 1 C | 300 |
| Total | | 2135 |
| Day 53  | | |
| Whole grain sourdough | 6 slices | 600 |
| Egg Challah | 2 slices | 660 |
| Jim Little's Croissant | 50g | 230 |
| Fried Kale | 1C | 120 |
| Apricot Sugar-Free Jam | 2 Tbsp | 40 |
| Nutella | 1 tbsp | 100 |
| Ricotta Cheese | 1/4 C | 100 |
| Chocolate lemon cake | | 300 |
| Walk | | -240 |
| Total | | 1910 |