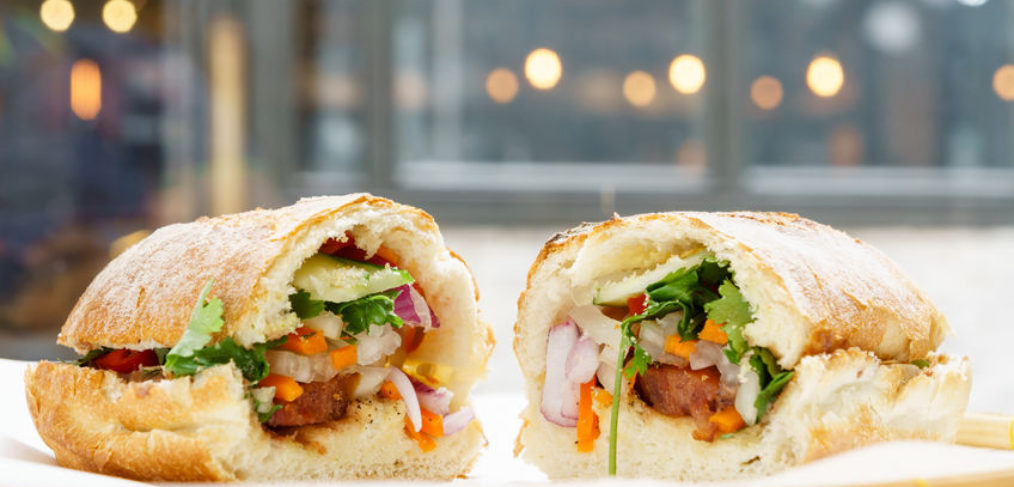 Bread from Across the World: Day 34
My family and I went to a Vietnamese restaurant today because I knew they would be happy with a hot bowl of Pho, while I could eat Bánh Mì. In Vietnamese, Bánh means bread, and mì means wheat. It was introduced by the French during their colonial period in Vietnam.
Bánh mì is shorter than the French baguette, airier and has a very thin crispy crust. I ordered Bánh mì Bo Kho, a slow cooked beef stew served with two Bánh mì. I finished up the delicious stew, but I could only stomach one Bánh mì.
Therefore, I brought the other one home with me. I compared the Bánh mì and the Baguette from Puratos side to side. The former had a uniform lighter crumb, and a very thin and crispy crust. Meanwhile latter is heavier and moister with an irregular crumb and a thick crunchy crust.
I believe the main difference between these two bread is the quantity of protein and hydration, with the Bánh mì requiring a lower protein flour and lower hydration levels. I am thinking I should go visit a Bánh mì bakery one of these days. Anyway, I had a great time eating crusty white breads today.
Here's what I ate on Day 34 of EB90:
| | | |
| --- | --- | --- |
| Food | Portion | Calories |
| Bánh mì | 200g | 600 |
| Puratos® O-tentic Baguette | 285g | 750 |
| Bo Kho | 2 C | 400 |
| Coconut water | 2 C | 100 |
| Grilled Pork | 2 oz | 150 |
| Coconut Cardamon Almond Cashew Butter | 1 Tbsp | 95 |
| Brussel sprouts | | 38 |
| Orange | 1 orange | 81 |
| Lemon Curd | 2 Tbsp | 120 |
| Siggi's® Skyr Vanilla | 1/2 C | 60 |
| Calcium Supp | | |
| Total | | 2394 |