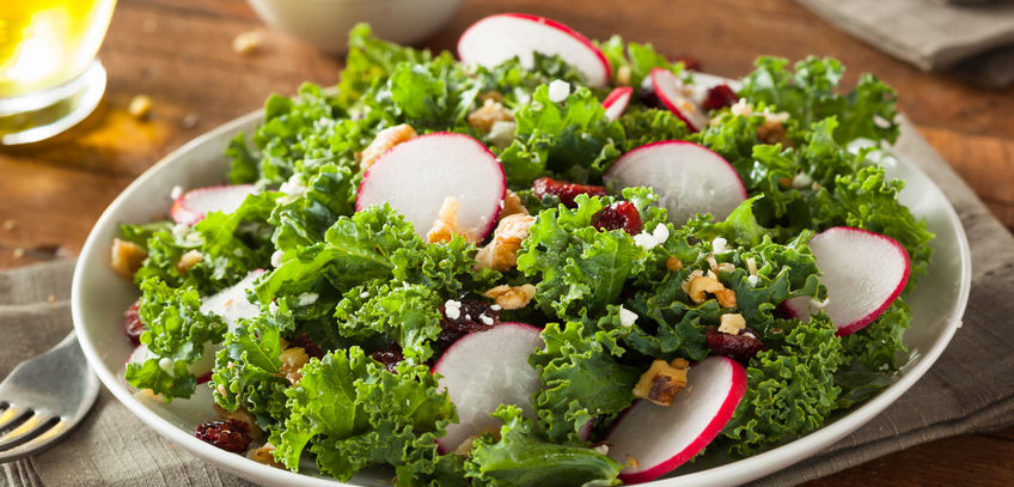 Why Raw Kale Can Make You Fat: Day 14
I woke up feeling very hungry, so I made a ham egg and cheese sandwich with Sonoma Sun from Alvarado St. Bakery for breakfast this morning. That really hit a spot. Sometimes it takes a good hearty sandwich to start the day right.
Someone critiqued my menu choice and said I don't eat enough salad and raw green vegetables. I personally am not a salad person. I just find it too troublesome to prepare salad for my whole family, where I could prepare the same amount of nutrients and antioxidants by just blanching some green vegetables and serving it with delicious butter.
"But eating raw vegetables are good for you, all the fresh vitamins and antioxidants are killed in the cooking process."
I hear this and see kale and spinach salads and smoothies gaining popularity these days. Did you know that eating raw broccoli and kale or other cruciferous vegetables could be harmful to your thyroid? These raw vegetables contain chemicals that block the production of thyroid, and can be harmful to people struggling with their weight, not knowing that they could have hypothyroidism. If you love eating raw kale and arugula, and you're having weight and depression issues, go check out your thyroid hormone level, and stop eating these raw.
In addition, raw spinach contains oxalic acid which blocks iron and calcium absorption. In order for you to reap the benefits of iron from spinach, you have to cook it. Yes, that is why Popeye got his spinach from a can! I don't know which health guru started this eating-raw-vegetable trend, but obviously, they didn't study the science of nutrition. I did try to get a green smoothie the other day, but the lady behind the counter told me she couldn't blanch my spinach before putting it into a smoothie. So I moved on.
Some other raw veggies that I turn and run from:
Edamame: Yikes! Protease inhibitors! They reduce your digestibility of proteins.
Mushrooms: Gross. Do you know what these are grown on? Horse manure.
Sprouts: Food safety alert!! The water that sprouts grow in are the best medium for E.coli. Why? Because the workers don't clean their hands when they plant these sprouts. My stomach churn for people who eat organic sprouts because they are not chemically sanitized!
I truly believe that is why humans grew bigger, stronger and lived longer when fire was discovered. We physically used fire to make more nutrients available to us, and this killed all the necessary bacteria that made us sick.  So let's use some heat and logic, to make food more nutritious.
Now, back to bread eating. Bread, a perfectly safe food to eat that is rich in nutrients that are readily available.
My dinner tonight included steak, caramelized onions, portabella mushroom, asparagus and Puratos O-tentic Baguette. Note: my steak is always well done because its proteins are more easily digestible.
Here's what I ate on Day 14 of EB90:
| | | |
| --- | --- | --- |
| Food | Portion | Calories |
| Alvarado St. Bakery® Sonoma Sun | 5 slices (43g) | 600 |
| Puratos O-tentic Baguette | 285g | 750 |
| Tillamook® Salted Butter | 2 Tbsp | 200 |
| Mango | | 200 |
| Egg | 1 | 78 |
| Tillamook® sliced cheddar | 1 Slice | 45 |
| Smucker's Sugar Free | 1 Tbsp | 10 |
| Dickinson's® Lemon Curd | 2 Tbsp | 120 |
| Skippy® Peanut Butter | 1 Tbsp | 95 |
| Orange | 1 orange | 25 |
| Asparagus | 1 C | 27 |
| Steak & Onions | 3oz | 271 |
| Almond Breeze® Chocolate Almond Milk | 1 C | 40 |
| Easter Candy | | 250 |
| Run | | -200 |
| Total | | 2531 |