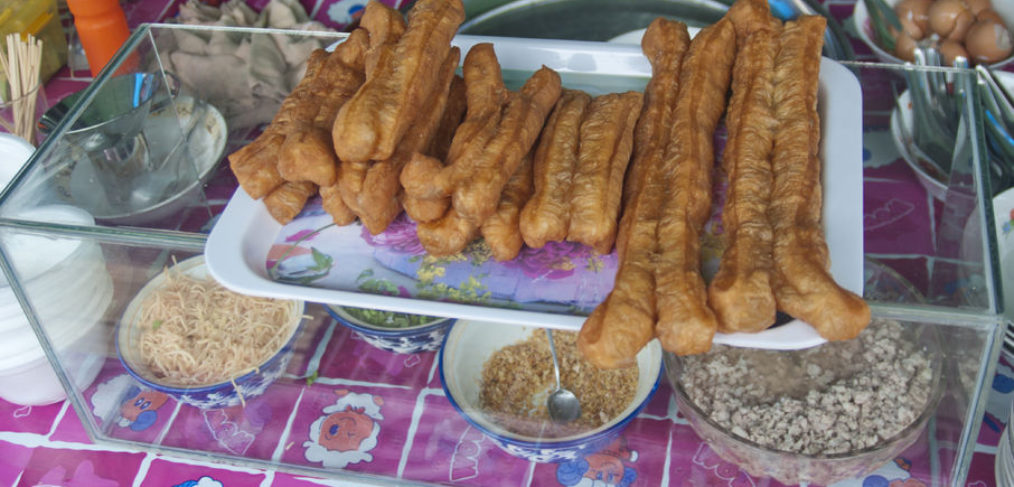 Traditional Asian Bread Recipe Roundup
Do you think Asians don't eat bread and only nibble on rice? Think again! Asia has a long history of producing some very delicious breads. Here is a small sample of Asian bread recipes to get your mouth watering.
Po lo bao
Po lo bao or pineapple bun is a type of sweet bread popular in Hong Kong. In 2014 the buns were listed as part of Hong Kong's intangible cultural heritage. It is a yeasted bun with a pastry dough baked on top. The pastry dough is very sweet, resembling sugar cookie dough. The pastry dough crust becomes crispy, yellow, and crinkles resembling the exterior skin of the pineapple. However, the bun does not contain or taste like pineapple.
The interior of the bun is soft and sweet. The recipe can be found here. Po lo bao can be eaten plain or with a slab of butter sandwiched in between for breakfast or afternoon tea.
Youtiao
Youtiao is a bread stick composed of two pieces of dough that are fried together. The bread has a crisp golden exterior and a soft interior. It is a popular breakfast bread all over Asia. The recipe, available here, may be made with yeast or baking powder. The dough is kneaded and allowed to rise before being shaped into 4 inch by ½ inch strips.
Strips are then placed in pairs one on top of the other and pressed down the center lengthwise with a chopstick. Once the dough is joined together it is stretched and fried until evenly browned. It can be served with savory toppings, dipped into soups and sauces, or with sweet additions depending on the region.
Hokkaido Milk Loaf
Hokkaido Milk Loaf or Japanese milk bread is rich, fluffy, and melts in your mouth. The recipe can be found here. This bread utilizes two techniques that give it the characteristic texture. The bread utilizes the tangzhong method which is a roux starter made of water and flour. The water and flour are cooked until the starches in the flour gelatinize and the mixture thickens. Adding the tangzhong to bread dough lightens the loaf and makes an airy tender crumb.
Once the dough is made a special technique for rolling and placing the dough in the loaf pan creates layers of cottony melt away texture. The dough is divided into 3 equal sections. Each section of dough is rolled out into a flat rectangle, folded into thirds, flattened again, and then rolled up like a jelly roll and placed in the loaf pan to bake.
Chinese Steamed Buns
Chinese Steamed Buns are also known as Mantou or when filled, Baozi depending on what region you find them in China. Thanks to the mongols, many countries in central and east Asia enjoy steamed buns. Fillings can range from savory meat/vegetable fillings to semi sweet bean to vegetable paste. A basic dough recipe can be found here. A great selection of Baozi recipes can be found here.
The yeasted dough is allowed to rise, rolled into a log shape, and sliced and cut into small sections. The sections are placed in a steamer above boiling water for 20- 25 minutes. Steaming gives the buns a smooth and shiny skin and an airy, moist crumb. The texture of the bun can be described as heavenly!