Bread Recipe Roundup
If all this talk about bread is making you hungry, why not give a shot at making your own?
There's no reason to be intimidated by baking your own bread. I know, it's so easy to just go pick up delicious artisan loaves off the shelf. However, there are hundreds of easy, tasty recipes that will make it hard to ever go back to store-bought bread again. From sweet to savory to classic and everything in between, you could be baking (and enjoying) bread today. Here are just a few recipes I found:
10 Delicious Bread Recipes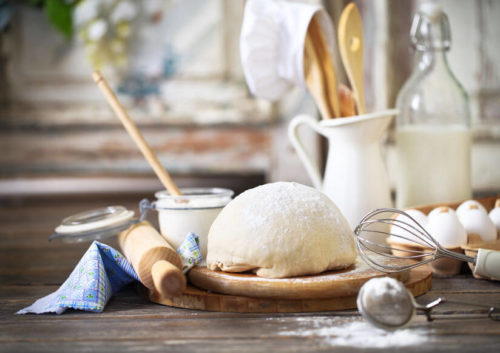 1. Easy Bread Recipe
An easy, simple bread recipe that's a great place to start. Plus, there's no kneading involved.
http://www.alexandracooks.com/2012/11/07/my-mothers-peasant-bread-the-best-easiest-bread-you-will-ever-make/
2. Simple Crusty Bread Recipe 
With just a few ingredients and few steps, you'll have a bread with a crusty crust that's bursting with flavor.
https://cooking.nytimes.com/recipes/1018203-simple-crusty-bread
3. Sweet Bread
Sometimes you just need something sweet. In just five minutes, you can whip up this sweet bread, perfect for breakfast or dessert.
https://julieblanner.com/sweet-bread-recipe/
4. Simple Whole Wheat Bread
If you're looking for a more healthy option, you'll want to taste this whole wheat honey loaf.
http://allrecipes.com/recipe/6773/simple-whole-wheat-bread/
5. Hearty Whole Grain 
Whole grain products are rising in popularity, so stay trendy with this recipe for a satisfying bread that allows you to experiment with different whole grains.
https://www.hsph.harvard.edu/nutritionsource/hearty-whole-grain-bread/
6. French Bread
A classic loaf, and staple for some meals, is french bread. If you own a food processor, this is the recipe for you!
http://www.epicurious.com/recipes/food/views/french-bread-235423
7. Pumpkin Brioche
Who says you have to eat your bread in a loaf? These brioche rolls are as unique as they are tasty!
http://www.bakerpedia.com/baking-recipes/pumpkin-brioche/
8. Rosemary Avocado Quick Recipe 
Vegan? No problem! Here's a rosemary avocado bread everyone will enjoy!
http://www.thefussyfork.com/rosemary-avocado-quick-bread/
9. Bacon and Cheese Bread
While we're adding things to bread, why not go all out with with this savory loaf that has BACON!
http://www.eatwell101.com/bacon-and-cheese-bread-recipe
10. Sourdough Bread
And last but not least: the classic but irresistible sourdough bread.
http://www.food.com/recipe/basic-sourdough-bread-34753
Do you have a favorite bread recipe? Let us know in the comments.