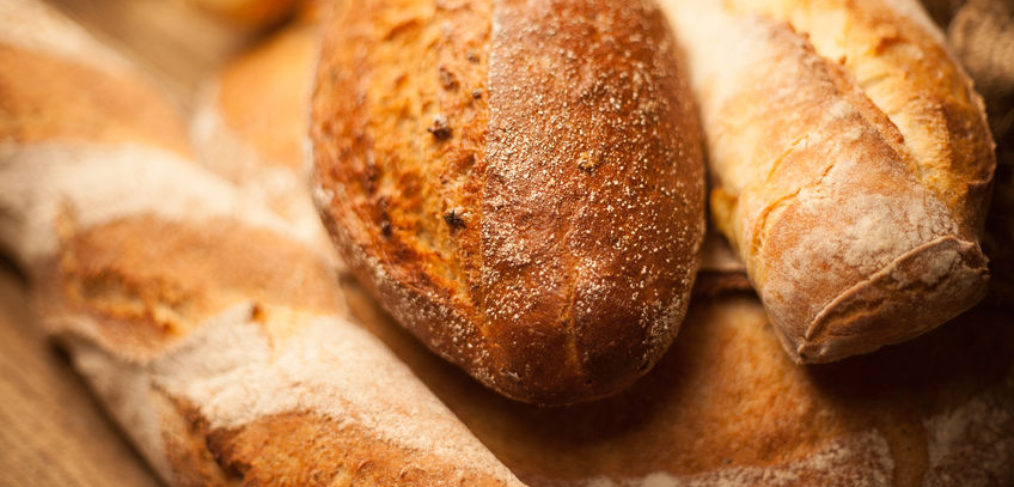 Someone said that to me today, to which I replied, "I wish, but don't you think free bread is payment enough?" I mean, could I not be more thankful than eating the thing that I love the most at no additional cost to me! A loaf everyday? Honestly, no one needs to pay me for eating their bread, or to get a feedback on it.
If you're in this industry baking bread, I know you do it out of the good intention of your heart. I've met all kinds of bakers through the years, and the most passionate of all of them are the bread bakers. They know the art, the science and how hard it is to truly bake bread and make a successful business out of it. Bread bakers are the most hardworking food manufacturers in the world.  With every bite I take from a bag of bread, I am truly thankful for their product that makes it all the way into our homes. Nobody needs to pay me for saying this.
Returning to Derek's Spanish Inquisition yesterday, where he said I was overdoing it: well, maybe. Even my mom tells me I'm overdoing this diet. "No rice? Are you crazy?" She shakes her head in disappointment as I skip her very special Singaporean sambal fried rice. I feel the need to push this needle on eating as much bread as I can, so that I can persuade people on the fence that bread is safe to eat. There are too many people falling onto the other side with all the misinformation.
I need to make this information available so that that they can make an informed decision on the types of diets they go on. Derek also said that a high carb diet is hurtful to people, together with that much gluten.
Seriously.
Eating a high carb diet will not kill you (unless you are diabetic, you should stay away from a diet like this). It gives you plenty of energy to burn fat, and it reduces your cravings. Together with an active lifestyle (mine is about 35 mins of exercise everyday), a high carb diet is beneficial to maintaining weight.
Eating a total of 2 oz of gluten per day (there is about 2 tablespoons in a pound of bread) will not suddenly make you allergic to gluten. That is much less protein, than most paleo or keto diets, and much safer because it is a plant-based protein. Honestly, many dieters are downing bacon, hamburgers and sausages in larger quantities, and they are definitely not developing allergies to pork anytime soon.
This is not to mock people who are celiac or have gluten intolerance, but to provide the fact that gluten is a protein. Like any other protein in a normal active person, it doesn't get preferential treatment nor is it singled out during digestion as a more problematic protein to digest. Gluten is a safe plant-based protein, and you should not be threatened by it.
I can go on and on about how bread can be part of a healthy diet. I hope bread companies can use the information that I share here to educate people on how safe eating bread can be. In addition, I'm not just one data point. I am an example of utilizing the information science has given me to help me guide my diet.
Use Science. It will make you love bread and carbs again.
I received a handful of Dave's Killer bread today. In their new line of organic bagels, the Epic Everything and Cinnamon Raisin Remix bagels are seriously awesome. Haven't tried it? Well, true to their brand, they delivered. Packed with 27 g of whole grains and 12 g of protein in each bagel, these bagels were epic-ly delicious!
Here's what I ate on Days 47, 48 and 49 of EB90:
| | | |
| --- | --- | --- |
| Food | Portion | Calories |
| Day 47 | | |
| 21 Whole Grains and Seeds | 6 slices (45g) | 720 |
| Cinnamon Raisin Remix | 1 bagel (95g) | 250 |
| Epic Everything | 1 bagel (95g) | 260 |
| Mozerella cheese | 3oz | 240 |
| Lemon Curd | 2 Tbsp | 120 |
| Sauteed Spinach | 1 C | 48 |
| Apricot Sugar-Free Jam | 2 Tbsp | 40 |
| Ricotta Cheese | 1/4 C | 100 |
| Butter | 2 Tbsp | 200 |
| Fried Egg | 1 | 78 |
| Orange | 1 orange | 45 |
| Berries &Mango Fruit Salad | 1 C | 120 |
| Spring rolls | 2 | 100 |
| Bike & Walk | | -300 |
| Calcium Supp | | |
| Total | | 2021 |
| Day 48 | | |
| DKB Honey Oats and Flax | 7 slices (42g) | 770 |
| Cinnamon Raisin Remix | 1 bagel (95g) | 250 |
| Epic Everything | 1 bagel (95g) | 260 |
| Greek Salad | | 400 |
| Egg (for French Toast) | 1 | 78 |
| Pizza | 1/2 Slice | 300 |
| Banana | | 105 |
| Bacon | 2 strips | 90 |
| Lemon Curd | 2 Tbsp | 120 |
| Butter | 2 Tbsp | 120 |
| Apple | 1 | 95 |
| Coconut water | 2 C | 100 |
| Bike | | -300 |
| Run | | -500 |
| Total | | 1888 |
| Day 49 | | |
| DKB Honey Oats and Flax | 4 slices (42g) | 440 |
| 21 Whole Grains and Seeds | 3 slices (45g) | 360 |
| Cinnamon Raisin Remix | 1 bagel (95g) | 250 |
| Sourdough bread | 95g | 200 |
| Turkey sandwich | | 200 |
| Philadelphia strawberry cream cheese | 1 Tbsp | 35 |
| Lemon Curd | 2 Tbsp | 120 |
| Apricot Sugar-Free Jam | 2 Tbsp | 40 |
| Butter | 2 Tbsp | 120 |
| Cobb Salad w Steak | | 600 |
| Fruit Salad | 2 C | 150 |
| Run | | -250 |
| Total | | 2265 |